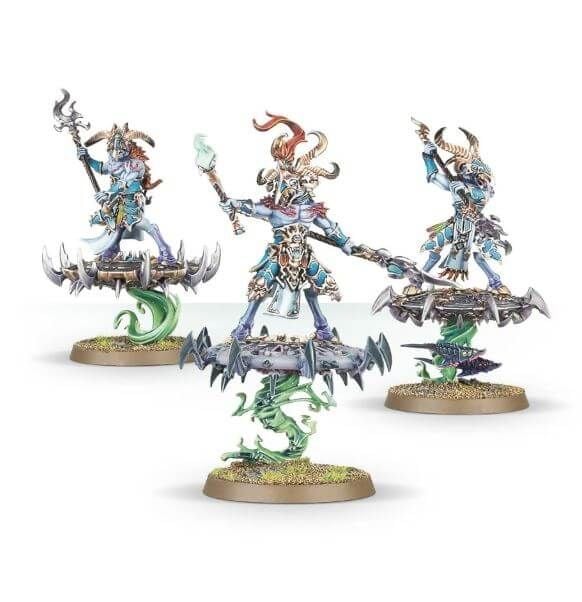 TZEENTCH ARCANITES TZAANGOR ENLIGHTENED
Các Tzaangor ưu tú, sở hữu bộ lông kỳ lạ và cặp sừng phức tạp, những Tzaangor được khai sáng thực sự được trời phú cho sự ưu ái của Tzeentch. Họ sử dụng những ngọn giáo được trang trí công phu để đặt họ trên những người thân ít hơn của họ, một số thậm chí còn cưỡi trên Đĩa Tzeentch. Tzaangor Giác ngộ có thể nhìn thấy những mảnh vụn của quá khứ - kẻ thù thu mình trong nỗi sợ hãi mê tín khi những Người được khai sáng đưa ra tiếng nói về các sự kiện trong cuộc sống của họ mà không ai phải biết.
Elite Tzaangors, possessing strange feathers and elaborate horns, the Tzaangor Enlightened are truly blessed with the favour of Tzeentch. They wield ornate spears that set them above their lesser kin, some even riding upon Discs of Tzeentch. Tzaangor Enlightened can see strands of the past – foes cower in superstitious fear as the Enlightened give voice to events from their lives that no-one ought to have knowledge of.